Littleton-South Metro Branch works hard to ensure that all our branch programs are in alignment with our strategic plan, which is also directly aligned to AAUW National's strategic plan.  This means that each program's focus falls into one of the following four areas:
Education & Training:

Addressing the barriers and implicit biases that hinder advancement of women.

Economic Security:

Ensuring livelihoods for women.

Leadership:

Closing the gender gap in leadership opportunities.
AAUW's fiscal year runs July 1 – June 30, with our end of the year annual meeting taking place in April.  Below is a synopsis of our most recent programs followed by a summary of the programs held September 2020-May 2021. Last year was particularly challenging due to COVID restrictions. However, all meetings were held successfully via Zoom which enabled us to keep branch members engaged during this difficult time. We hope you will consider joining us for one of our 2021-22 programs.
Recent Programs
May 2022 Branch Meeting
Diversity, Equity and Inclusion  – Where Do We Go From Here
Candace M. Smith, Aurora Branch Member
         
Speaker, Candace Smith (photo top left), and other branch members at May branch meeting.
March 2022 Branch Meeting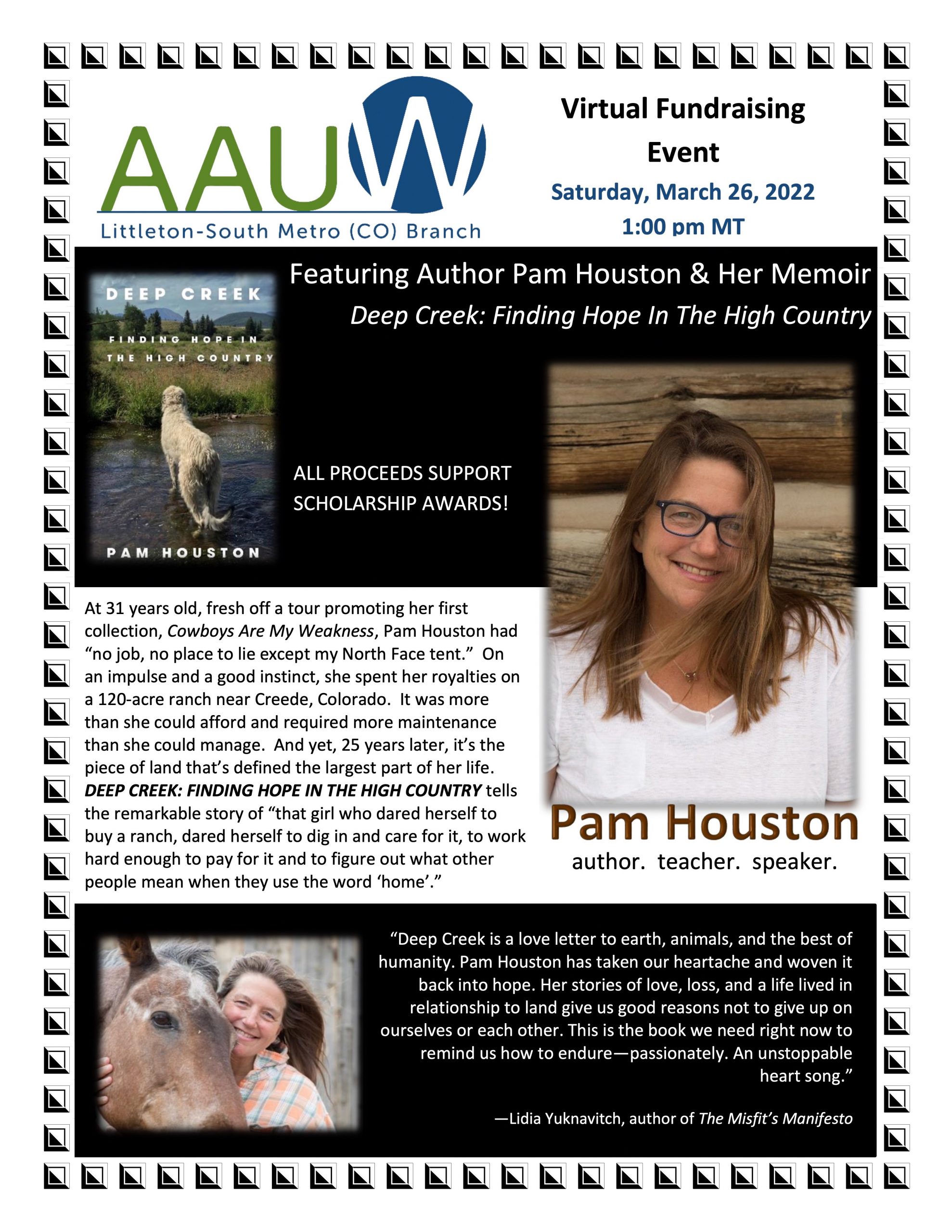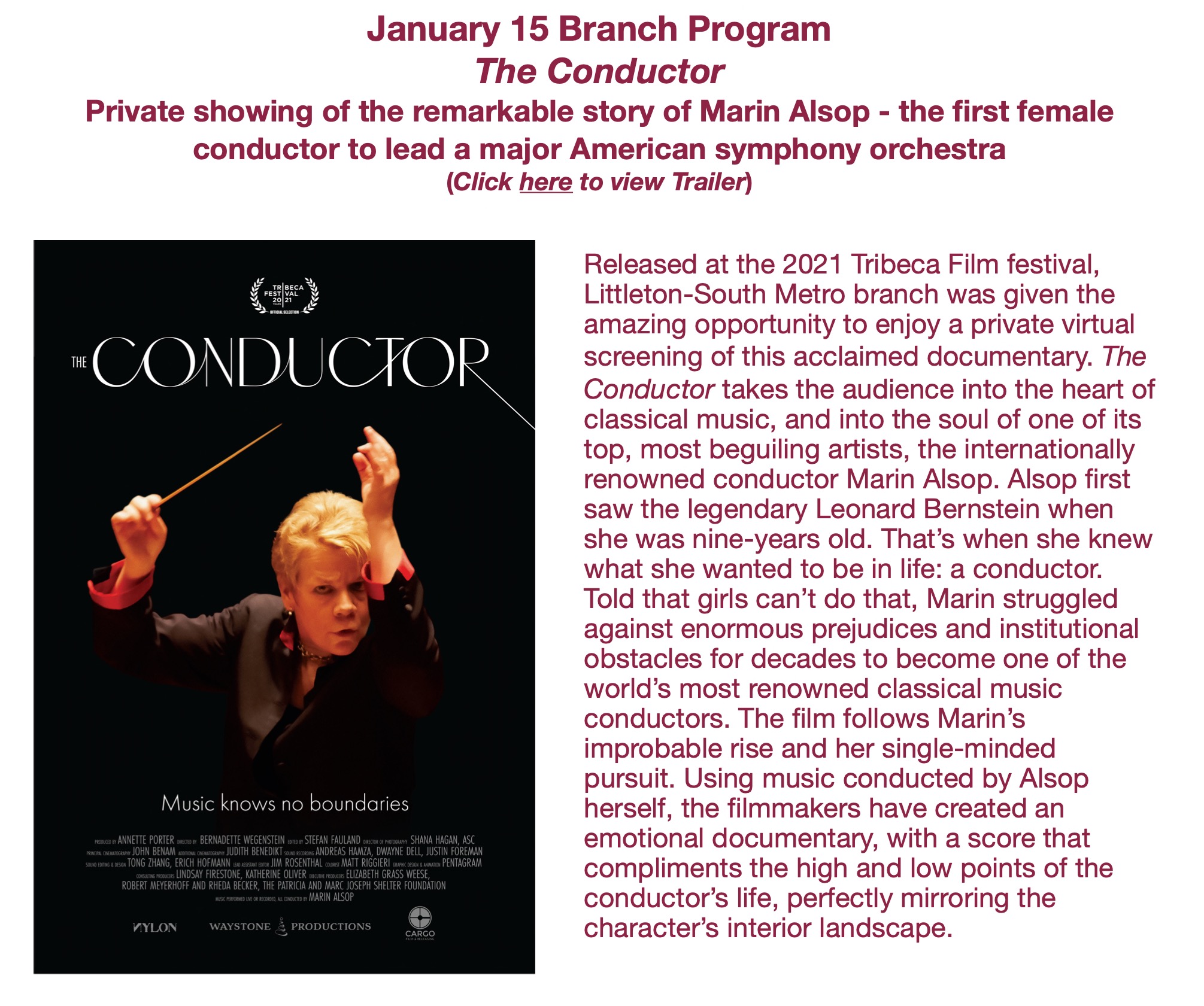 ---
December 2021 Branch Meeting, "The New American"

For a limited time only, enjoy the Living Voices video entitled "The New American". Use the following Password to access the video: !mW7gr@73.
---
Check out the Video Recordings for the November 2021 Branch Meeting


---
Check Out the Presentations at October 2021 Branch Meeting and Other Relevant Information
November 2021 Ballot Issues – Jo Feder, League of Women Voters
LWV 2021 Ballot Issues Brochure
League of Women Voters of Colorado
Vote411
---
September 2021 
Fall Kickoff Meeting – 
"A picnic in the Park"

---
Past Programs September 2020- May 2021
SEPTEMBER:
September Kick-Off Meeting Focused on Zoom Training (September 12, 2020): Due to COVID-19 pandemic & the need to utilize online/virtual meeting platforms (Zoom), we held virtual meeting training to increase members' comfort with utilizing the platform.
OCTOBER:
Voter Signature Authorization & Ballot Issues (October 10, 2020): Littleton-South Metro member, Jane Miller, spends election season verifying ballot signatures for the State of Colorado.  This was an excellent presentation on what's involved, how important this work is & also how important it is to participate in these types of roles.  We also heard from League of Women Voter's Jo Feder about important ballot issues.
NOVEMBER:
Dr. Dena Samuels & The Mindfulness Effect (November 14, 2020): To promote the well-being of our members & the important aspect of taking care of themselves first, we engaged Dr. Samuels to provide a bit more training on this, than was offered at the State Spring Conference.
EnCorps STEM Teachers Program (November 14, 2020):  Presentation by Bethany Orozco, National Recruitment & Communications Director.  This program recruits professionals (retired or not) to become teachers or fellows in the program & then trains & positions them in under-resourced community schools to give disadvantaged students access to high-quality STEM education.  We also discussed ways to partner, including options for our members to volunteer in the program
DECEMBER:
Hear My Voice Annual Holiday Event & Fundraiser (December 12, 2020):  In keeping with our usual tradition, despite the restraints of a pandemic, we moved our holiday event completely & successfully online.  Additionally, Hear My Voicewas produced by award winning theatre company, Living Voices.  The performance was both virtual & live, presenting a very engaging look at the Women's Suffrage Movement.  We had members attend from many other branches, plus League of Women Voter members.
JANUARY:
Video "Live with Carnegie Hall: Remembering Ruth Bader Ginsberg"
FEBRUARY:
Public Policy Day
MARCH:
AAUW National's Equity Network (March 13, 2021): Presentation by Nischia McFarlane, Engagement Associate for Advancement & Partnerships.  Members brought guests to this meeting as we learned more about this pilot program, how it's engaging younger generations who don't want to become members & also how we can help promote this program so that more young women can learn about the programs & opportunities offered by AAUW National on equity & how it factors into achieving economic security.
APRIL:
Andrea Bobotis, Author of The Last List of Miss Judith Kratt (April 10): Andrea is a Colorado author who not only discussed her book & the book writing process, she also discussed how she went about getting her book published, along with some of the barriers she had to overcome.
MAY:
CO Supreme Court Justice Monica Marquez (May 22, 2021): Justice Marquez discussed her journey to become a Justice, the obstacles she had to overcome & the rewards of having this career.  She also sits on the Bench Dream Team, a group of judges dedicated to diversity & inclusion in the Colorado Judicial System.