Welcome to AAUW Littleton-South Metro!
Our Mission: To advance gender equity for women and girls through research, education and advocacy.
Our Vision: Equity for all.
Follow the links below to learn how to negotiate for your next salary and learn about AAUW's strategic plan. Want to know more about AAUW Littleton-South Metro? Click here. Want to join us? Click here.
---
JUNE VIRTUAL HAPPY HOUR
Thursday, June 10th from 4:00 – 5:00 pm
Please join us for our next Virtual Happy Hour
Thursday, June 10th' from 4:00 to 5:00 pm
See the June edition of TWIGS or
Look for an email with an invitation and a link to join.
JUNE PICNIC FUNDRAISER
Saturday, June 19th
12:00 noon to 3:00 pm.
Sterne Park (North Shelter)
5932 S Spotswood Street, Littleton, 80120
Please join us for our first Picnic-Fundraiser at Sterne Park (North Shelter)
Corn Hole and Ladder Golf games will be available. Feel free to bring other fun outdoor games along to share. Please remember that Masks Are Optional and if you still prefer to keep some distance between you and others, please bring your own lawn chairs as there will be plenty of shade adjacent to the shelter, if you would rather not sit at the picnic tables. We will also have a donation basket, and anyone donated will get a chance to win one of two door prizes. And, most importantly, we will draw for the winner of Jane Miller's beautiful quilt.
Order Lunch by June 11:
Boxed Lunches from Honey Baked Ham will be served. There are four options, and each box contains chips and a cookie for the minimal cost of $10. Bottled water will be available but feel free to bring a beverage of your own. Please refer to the June edition of TWIGS, delivered to your email boxes on Wednesday, May 26 for information on sandwich selection and also how and where to send your order/money.
Quilt Raffle Fundraiser
A highlight at the picnic will be drawing the winning ticket for this beautiful quilt, made by branch member Jane Miller. Tickets can be purchased in advance (see below) or can be purchased at the picnic (bring your checkbook or cash). The quilt is machine-pieced and machine-quilted in shades of lavender. The French-braid quilt measures 66" x 80" and can be hung as a wall covering or used to top a full or queen bed. Help our branch advance AAUW's mission by asking friends, family, neighbors and church friends to purchase tickets to win the quilt. Explain that their donation will support scholarships for promising young women in Littleton and Sheridan starting their college careers. Every five dollars of your donation to the scholarship fundraiser gives you a chance to win the quilt (e.g., $35.00 donation = 7 chances). Please also see the June edition of TWIGS for information on how to purchase tickets in advance.
---
DIVERSITY, EQUITY & INCLUSION (DEI)
AAUW seeks to promote inclusion and awareness
for all members to create an equitable,
sustainable and inclusive membership reflective
of today's world.
Want to know more about DEI? Check out AAUW's DEI Toolkit!
---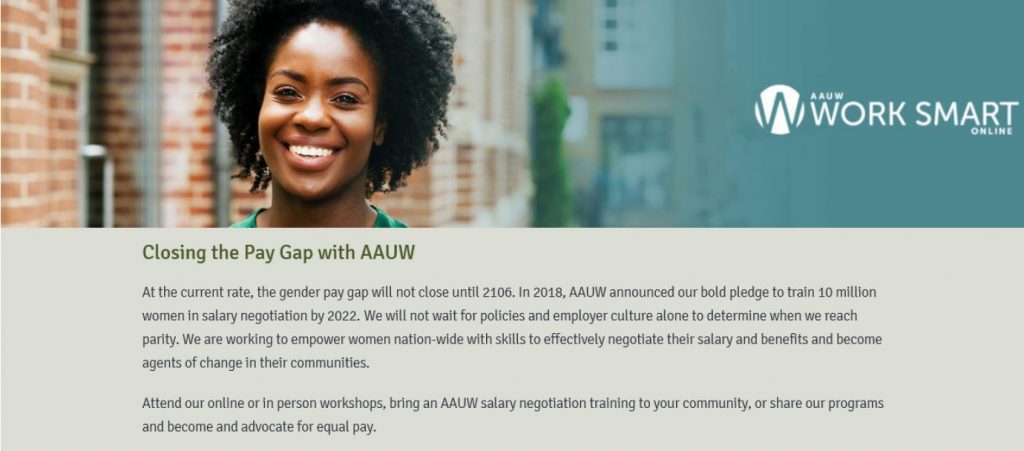 ---
Start your free, online salary negotiation workshop
---

Click here to access AAUW National's Strategic Plan.
Click here to access the Education & Training Strategic Focus page.
Click here to access the Economic Security Strategic Focus page.
Click here to access the Leadership Strategic Focus page