Welcome to AAUW Littleton-South Metro!
Our Mission: To advance gender equity for women and girls through research, education and advocacy.
Our Vision: Equity for all.
Follow the links below to learn how to negotiate for your next salary and learn about AAUW's strategic plan. Want to know more about AAUW Littleton-South Metro? Click here. Want to join us? Click here.
---
JANUARY VIRTUAL HAPPY HOUR
Thursday, January 7th from 4:00 – 5:00 pm
Please join us for our Second Virtual Holiday Happy Hour on Thursday, January 7th from 4:00 to 5:00 pm. As with last month, look for an email with an invitation and a link to join.
---
January Program/Matinee: RBG
Saturday, January 9th at 1:00 pm
(virtual doors open at 12:45)
We originally intended to share the Ruth Bader Ginsburg Documentary: RBG. However, due to licensing regulations, we are not able to do that. As an alternative, please join us for:
Live with Carnegie Hall:
Remembering Ruth Bader Ginsburg
Originally Presented: Thursday, November 19, 2020
Ruth Bader Ginsburg worked tirelessly to promote equal justice under the law throughout her life and career. But when she needed a respite from the pressures of the Supreme Court, Justice Ginsburg famously turned to the world of opera and classical music. Hosted by multiple Grammy Award winner Isabel Leonard—and featuring an interview with Justice Ginsburg's children, alongside remarks and performances by Joyce DiDonato, Renée Fleming, Denyce Graves, and Patrice Michaels—Carnegie Hall celebrates and honors the groundbreaking icon who gave so much of herself to ensure a more just world for us all.
There is no registration for this program. Look for an email announcement with an invitation and link to join the program/matinee.
---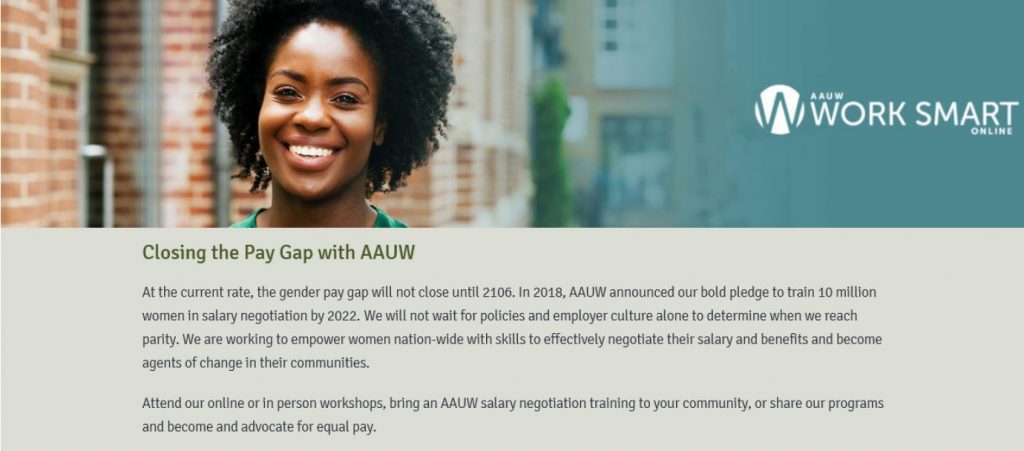 ---
Start your free, online salary negotiation workshop
---

Click here to access AAUW National's Strategic Plan.
Click here to access the Education & Training Strategic Focus page.
Click here to access the Economic Security Strategic Focus page.
Click here to access the Leadership Strategic Focus page.